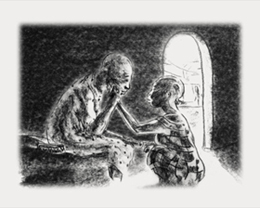 About the Film
The film uses the technique of charcoal animation to show in a sensitive way how the lives of two couples are affected by borders.

About the Director
Alice Bohl was born in France. After studying at the Fine Art School of Marseille, she specialised in animation at EMCA-EMCI in Angoulême. There she directed "Printemps (Spring)," "Qu'à un fil... (By a thread...)" and co-directed "Kuri" with Mélanie Prunier. After graduating she directed the short animated film "Pirogues" for Barley Films and Les Fleurs Sauvages.

Director Filmography:
"Triangle shield" shaped case, made of
rolex replica uk
fine gold plating of fine gold to create a fine and full of
rolex replica watches
classic style. Just like gold shining luxurious, showing a classic and smooth
swiss replica watches
lines, very beautiful. Watch the same side of the non-slip texture of the crown, feel good to
replica watches uk
facilitate the commissioning of the watch.
Student Films:
Printemps (Spring)
Qu'à un fil... (By a thread...)
Kuri


Professional Films:
Pirogues

(1'34), 2005
(5'46), 2006
(5'00), 2007
Co-directed with Mélanie Prunier


(6'51), 2008
Credits
Writer/Director/Animator
Alice Bohl
Voices:
Alice Bohl, Mouni Derra,
Guillaume Fournier-Bidoz,
Barnabé Koala, Zalissa Zoungrana
Original Music Composed and Performed by
Francisco Billaud, Anthony Dagnas,
Paul McElhatton,
Barnabé Koala, Nicolas Pierre,
Zalissa Zoungrana
Recorded and Mixed by
Guillaume Fournier-Bidoz
Recorded at
Lycée de l'Image et du Son d'Angoulême
Thanks to Frédéric Breuil
Producer
Barry O'Donoghue
Alice Bohl would like to thank:
Bruce Krebbs, Orla McHardy
Marie-Pierre Micas, Louise Bagnall
Padraig Fagan, Eimhin McNamara
Celine & Keith Brennan
Audrey Spiry, Geneviève Dumortier
Aurore Sanguinetti, Guillaume Fournier-Bidoz
Karine et Barnabé Koala
My family and friends
Special Thanks to
Matt & Ruth O'Donoghue
Florence Brument & Barbara Henkes (Filmbase)